Kamenjak All Round Kayaking
Explore the Nature park: Cape Kamenjak
Kayak, Snorkel, Cliff Jump & More
This 5-hrs kayak tour at the southernmost tip of Istria shows you the beautiful seascape around the Nature park of Cape Kamenjak! You'll get the chance to experience the real nature, kayak in the cave and along some nice beaches with pebbles, take photos on the cliffs, swim on the island of dinosaurs and more!
Discover the Nature park and it's beauties aboard a comfortable double sit-on-top kayak
Explore two sea caves full of hidden corners and fascinating formations
Snorkel in the pristine waters of the northern Adriatic Sea seeing the diversity of fish beneath the surface
Choose to take a leap into the sea from the rocks—your braveness will select the height!
Enjoy a stunning photo opportunity during kayaking and snorkeling in the caves, where the sunlight plays with the water surface
Explore the real dinosaurs footprints on the island with the nice view on the highest lighthouse in Istria
Click the tabs to find out more
Price
Adults: 445 kuna / 59 euro
Children (12-14 years): 356 kuna / 47,50 euro
Groups (5+ people): 400,50 kuna / 53 euro
Private tour: from 2.130 kuna / 284 euro
---
Departure time
Tuesday, Thursday and Saturday at the times listed below:
April: 11:00
May – June: 09:00
July-August: not operating
September: 10:00
October: 11:00
We can organise extra dates and times as well.
November – March: Tours are only available on request.
---
Meeting point
Premantura
(Exact start point to be agreed during/after booking).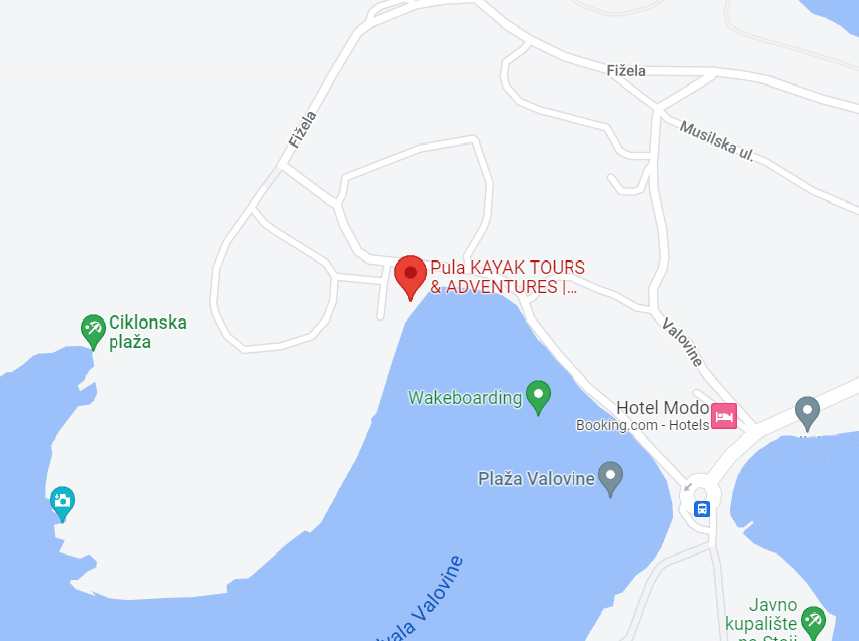 ---
---
Group size
Small-group tours: 10 people max
Private tours: up to 16 people
---
Included
Comfortable double sit-on-top kayak with paddles
Life vest
Dry bag for personal things
Mask & snorkel
Photos in digital format
Seasonal fruits
Wetsuit (if needed)
Water shoes (if needed)
---
Not included
Personal things: swimsuit, towels, etc.

Transfers, pick-ups, & drop-offs

Gratuity
---
What to bring
Swimsuit/trunks, towel

Water shoes
Sun protection
T-shirt and shorts
Snack, reusable water bottle to refill or enough to drink (you know your needs the best)
Other personal items
---
Your guide
A friendly & experienced kayak guide always available for English & Croatian-speaking guests. Contact us in advance if you have an alternative language preference (German, Italian, Dutch).
The adventure starts at Nature park Cape Kamenjak, Premantura. Meeting point is Polje bay. To get there you'll need a car, bike or decide to walk about 1km from the entrance. If you're coming by car, there's an entrance fee of 80 kuna per car.
We will have a brief 15-20 minute introduction so that we can get to know each other, learn or refresh the basics of paddling and talk through the safety instructions. Once that is done, we can hit the water!
Sea Kayaking
Next, we set out onto the water, enjoying a gentle paddle for around 7 kilometres. During this time we will take breaks for exploring in one cave, snorkeling in the other one, cliff jumping, and a picnic!
Snorkeling & Cliff Jumping
The first stop is at the rocks just below the cliffs and hidden cave inside! During a beach break, which lasts around 45-60 minutes, you have the best opportunity for snorkeling around and inside the cave, with mesmerising water colour since the sunlight comes through the hole on the ceiling. After the time in the sea, it's the perfect moment to check out your "flying" skills by jumping from the rocks into the water ?
Cave Kayaking
Then, we continue towards the second cave and cliffs. Paddling near and under the cliffs, while touching the refreshing sea surface with your fingertips, gives you another perspective of the area. There we park our kayaks for a short time and take a break to make some stunning photos. We have enough time even for a picnic and fresh fruits before we move forward!
Island with real Dinosaurs Footprints
Our next stop is the Island Fenoliga, popularly called the Island of dinosaurs! This is the time to awaken the explorer within you and embark on a mini adventure of discovering real dinosaur footprints. This is our last location for a swim, snorkeling or just relaxing and enjoying.
Back To Our Meeting Point
From here, we make our way back to where we started where our tour sadly comes to an end and we must say our goodbyes.
---
The entrance fee for Nature park Cape Kamenjak is 80,00 kuna per car.
There is a macadam road on Cape Kamenjak, and a speed limit to 20km/h.
Please arrive 15 minutes before the tour start time so you can park, find us, and dress for the activity
You're welcome to bring your own dog, as long it doesn't affect other guests (eg. dog jumping on other people's towels)
Suitable for ages between 10 to 65
Not suitable for people with back problems, vertigo, heavy asthma, and similar health issues
Children up to the age of 12 must be accompanied by adults in the same kayak
What Our Guests Have Said
---
Very exciting kayak trip with a kind guide and a team of positive people. Three hours to remember.
Great experience and our lovely guide made it even more enjoyable by her kindness and by giving us many interresting informations all along the tour.
Great experience! Lovely tour with a very nice guide and good equipment. He showed us all the good places and helped with kajak instructions. The service was amazing. I highly recommend it. Thanks Pula Outdoor for an amazing day!
Thx for the awesome kayak trip. We had a blast. The cave was amazing and the stories around it.
The snorkeling was really great as we saw various types of medusa and fish.
We had a great time and really nice conversations.
Highly recommend it.
Ich bin mir sicher, dass jede Kanu/Kayak Tour mit Pula Outdoor ein Erlebnis ist. Wir lernten Thea und Majda kennen – und beide versprühen derartig Freude an dem, was sie tun, dass man gar nicht anders kann als sich wohl zu fühlen! Die Tour ums Kap war wunderschön, und auch sportlich. Allerdings passen beide sehr gut auf, dass jeder mitkommt, und jeder seinen Spaß hat. Ja, wir sind begeistert und machen beim nächsten Urlaub in Istrien sicher wieder eine Tour mit Pula Outdoor!
---
Seagull's Rocks Snorkeling
Pula SUP & Coasteering Adventure
Pula Cliffs & Cave Adventure