We are all used to the idea of a kayak for 2 or 3 persons, or a family size kayak. But when we think about Stand Up Paddling – SUP, we mostly have the image of one person with one paddle. What would you think about a SUP board for two persons?
Today, we live in times when new innovations happen every day, and tandem SUP-ing is one of them. If the idea is not so appealing right now, keep reading, and maybe by the end of this text you might change your mind.
Who is the tandem SUP board for?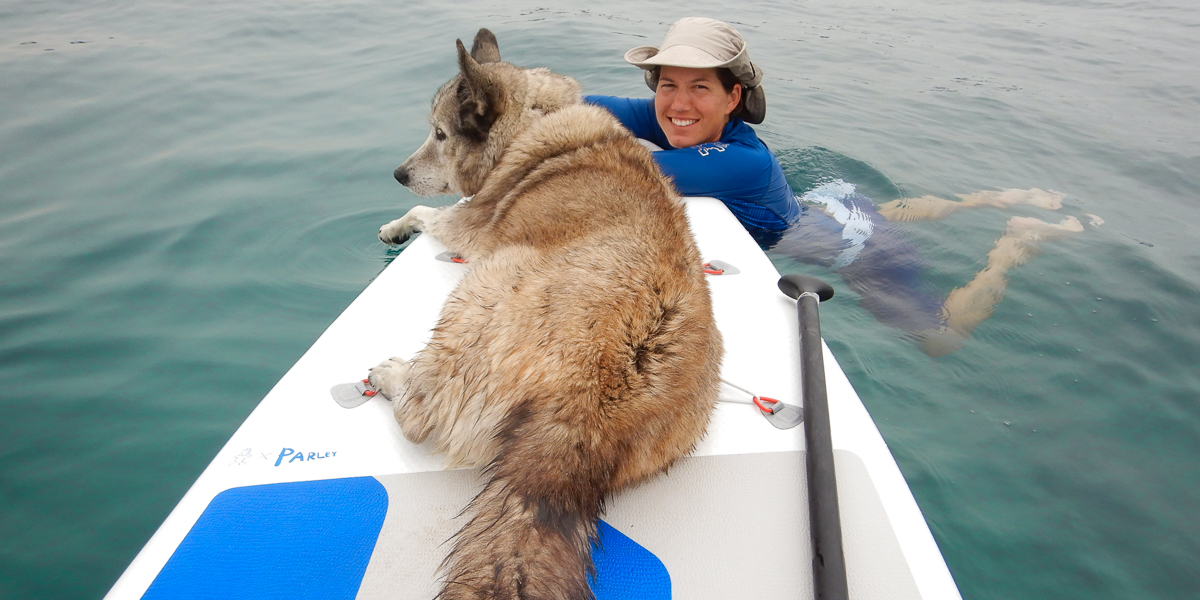 First we can think of are couples. If you like spending quality time with your significant other, then tandem SUP board is the perfect choice for you. Even for a Valentine's day date, it's a great way to go exploring and searching for romantic places.
A good tandem board can also take on the whole family and some luggage you need for a nice day on the beach. Families with children, who are not yet big enough to paddle by themselves, might consider this idea. When you're buying the board, make sure to check the weight limit. You can also have an extra paddle on board, so that the little ones can have some fun time paddling too.
Over the years we've noticed that the first timers have no problems learning and handling the larger beginner boards. But, even on those, the big boys (close to or over 100 kilograms) had some difficulties. For them, a tandem board is a possible solution as it's longer, wider and can carry more weight.
Even pet owners could benefit from a bigger, more stable board. If you like taking your pets everywhere with you, but your dog is too heavy for a one-person board, with a tandem board you could achieve the adventure! It should be great fun for sure 🙂
Bringing a friend is a great support for friendships. Except stand-up paddleboarding is a perfect way to exercise, you can spend some nice time chatting, reflecting on the good old days and creating new adventure memories together.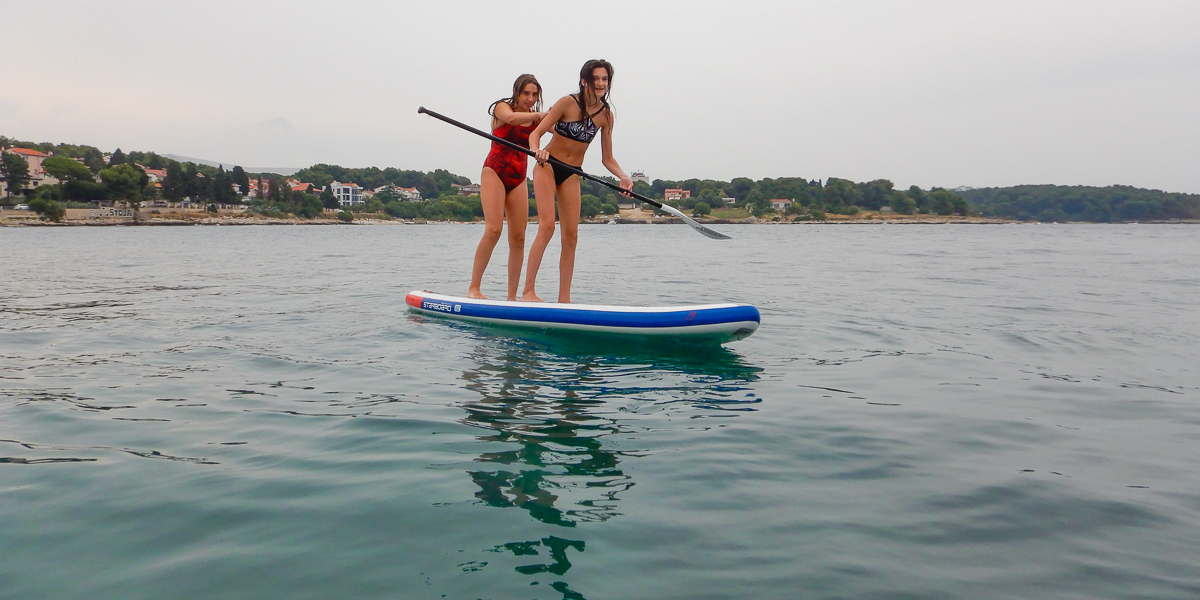 What are the advantages of a tandem board?
Tandem SUP board is longer, wider and more stable than the one-person board. It can carry more weight, so you can also take some more cargo with you (such as cooler with food and drinks), snorkeling and fishing gear, and even camping gear if you are planning on making longer trips. Tandem's increased stability can help you start practicing or improve your SUP yoga skills as well.
Comparing the tandem board to 2 one-person boards, the tandem board costs less and takes up less space in your car or storage space. On the longer trips, you can even take turns paddling while your partner takes a rest. Maybe you have a friend who is afraid to try SUP-ing on his/her own? On a tandem board they will feel more secure and confident with your support on their side. Paddling with your friends and loved ones is just priceless.
Are there any down sides?
Tandem is heavier to carry and it takes longer to inflate than the one-person board. It's a little bit more difficult to paddle, if you're going on your own. But the biggest "downside" is, once everyone knows you have one, it might be difficult to get some alone time SUP-ing, cause there will always be someone who wants to go with you 😉
If you have any personal experience with tandem sup, let us know in comments on our fb page!