If you've never heard of coasteering, don't worry, not many people have. It's the perfect opportunity for you to get to know this thrilling and fun water activity! For some of us who are born in the rocky coastal area (most of Croatian coast is rocky), a kind of coasteering is something we actually did our whole lives, without even knowing it.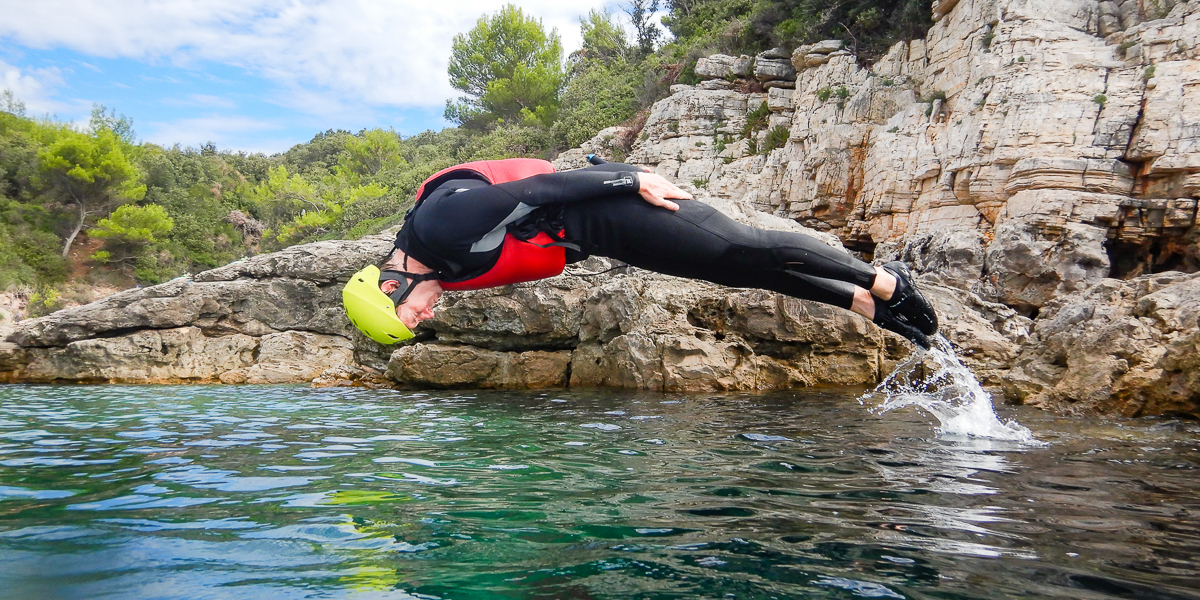 The name Coasteering originates from the UK, since the early 1980's, and it's a combination of the word "coast" and "mountaineering". The activity itself is a special combination of several activities, like swimming, climbing, scrambling, side traversing and jumping from rocks into the sea. It takes place in the intertidal zone of the rocky coastline on foot or/and swimming, usually without the help of boats, kayaks, boards or any other type of vessel or craft. 
Who can participate?
Coasteering is hours of fun for the whole family. If you're in good health, fairly fit, able to swim and aged 8 or older (minors must be accompanied by parents), but younger than 58, you are able to participate. The pace of the tour will be matched so that it makes all the participants feel comfortable and confident. If you're afraid of heights, you don't have to jump from high places. But, who knows, you might like it if you try.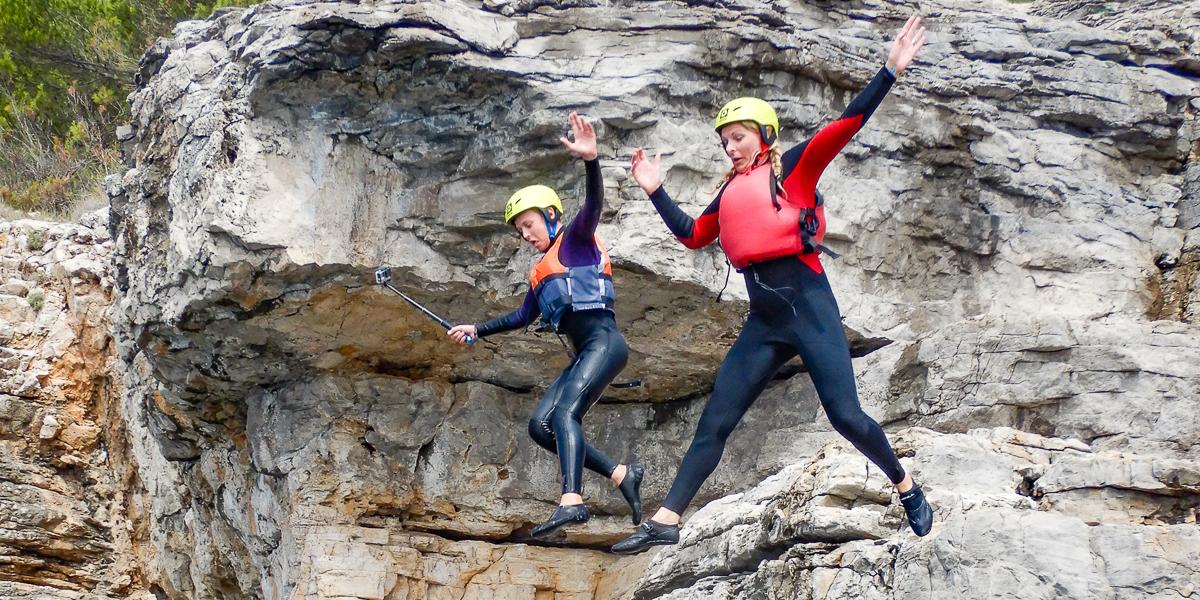 Is it safe?
When you join an organised activity, you are under guidance of a guide. Good guide has experience and knowledge about the local area and coastal routes, tides, waves, currents, weather conditions and other factors that may influence your adventure. In the guided tour you are fully equipped with everything you need for a fun and safe time on the sea. 
Coasteering equipment includes a wetsuit (short or long depending on the time of the season), life jacket for buoyancy, helme and good shoes. Shoes are very important to protect your feet from the sharp rocks, so it's best to bring your old trainers or sneakers. With all that, we can boost all the safety measures.
Like any other sports activity, without the proper preparation, planning, equipment and knowledge of the natural forces in the area, coasteering may sometimes result in injury. That's why we suggest you be cautious and prepare well for the activity or think about joining a guided tour.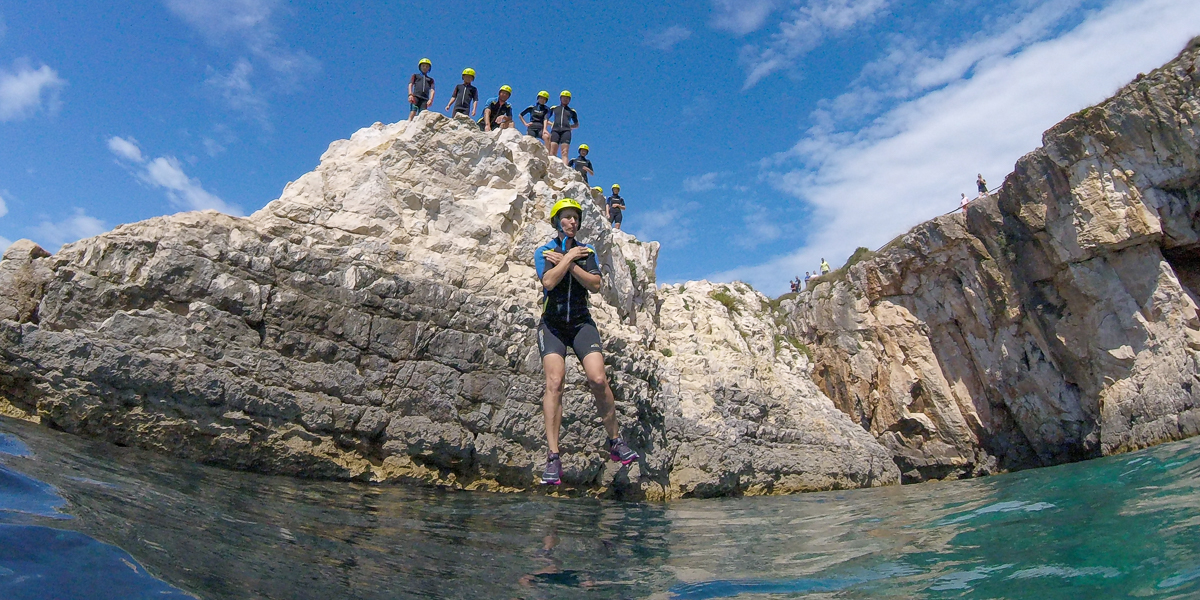 Why choose Coasteering?
Coasteering is an exciting, adrenaline activity and a healthy exercise that drives you to overcome natural obstacles and challenge your own limits, all while exploring the natural wonders! So, why not give it a try!? 😉
If you'd like to have a unique experience in Croatia, try our Pula SUP and Coasteering Adventure where you have the chance to try Coasteering for the first time and also practice SUPaddling while exploring sea cave, hidden tunnels and passages in the cliffs.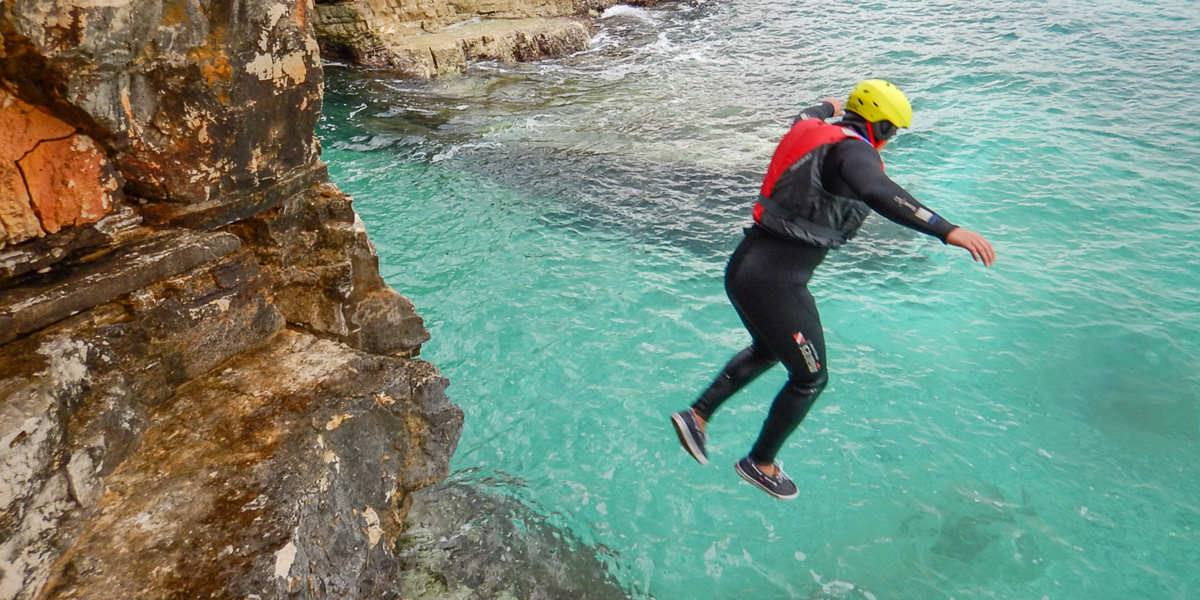 We're here for you to help. If you have any questions related to Coasteering or some other adventures in our offer, please drop us a note. If you find this article helpful, you're welcome to share it with friends!